Summer is the season of warm weather, rooftop dinners and interns, which is an exciting time for students to work at companies and get a taste of the industry they are studying. Starting a new internship is exciting but at times can be a bit overwhelming. By following these tips to prepare yourself, there's no need to worry – being a PR intern is a fun and rewarding experience if you know how to make the most of it. Follow these guidelines for a smooth day at the office that will prepare you for when you enter the PR world full-time!
1) Use a Planner
Yes, this means a paper planner that you can write on! It can be convenient to quickly type something into your smartphone, but nothing compares to having a real planner. Writing things down will help you remember things better than typing them, and it's so rewarding to physically cross an item off of your to-do list. It helps you stay organized (for more on organization check out this post), and there are so many cute patterns to choose from! You can stop by Staples and find one for less than $5, or treat yourself to one made by Kate Spade or Vera Bradley. Invest in a planner that is lightweight and small enough to fit in your purse so that you can easily bring it along with you on a busy day.
2) Familiarize Yourself with Helpful Apps
As a PR intern, you will likely be responsible with creating content for and managing social media platforms. When you are creating an insta-worthy post, there are tons of apps to help along the way that make posting a breeze. One of our favorites is Canva, which has lots of templates to use for posts, stories and highlights that will add some extra aesthetic value to your pictures. It can even help you create business cards, logos, presentations, brochures and more! Another great option is Planoly, which allows you to schedule your social media posts in advance. This allows you to get ahead on your feed and time them throughout the future (while creating a cohesively-planned grid). Keep in mind that you may already have some great apps downloaded to your smartphone so be sure to explore the different features and think about how they can be beneficial to you. Check out different features on Instagram like IGTV or explore going live on Facebook for fun and unique social media interactions.
3) Utilize Your Break Time Wisely
Your lunch break may seem like the simplest part of your day, but chances are you're working in a busy office in a busy city. You may only get a short amount of time to eat, and lines can be long at restaurants around your building. It is important to find a time to re-energize in the middle of a busy day so avoid spending your whole lunch hour ordering food by finding out what places around you offer pre-scheduled food/drink for pick-up. Places like Starbucks, Chipotle, and Chop't allow you to order and pay from their app and schedule it to be ready when you plan to pick it up!
4) Observe Your Colleagues' Attire
Make sure you pay attention to what everyone in the office is wearing. Don't just assume you should dress business formal or even a conventional business casual. Most people working in PR dress professional with more of a trendy twist than the traditional businessperson. There may be no need to go on a shopping spree before your first day because you most likely have everything you need to wear in your closet already! You're allowed to wear tasteful fashion trends in the office as long as they're appropriate, so don't rule out your jeans or funky shoes when you're getting dressed in the morning.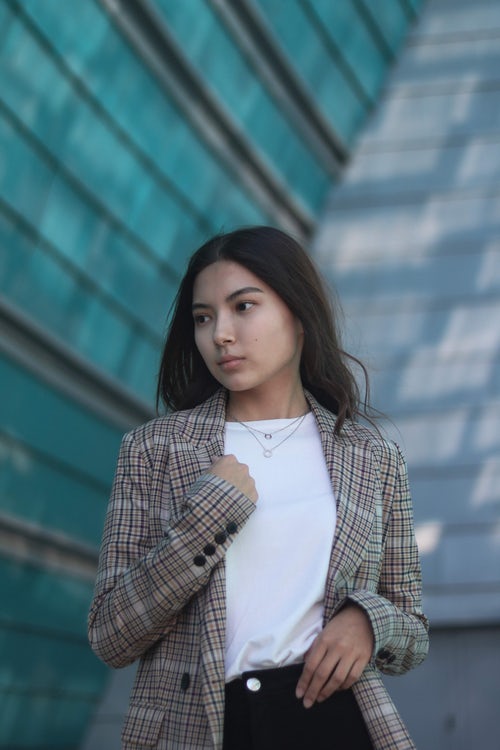 5) Be Prepared for Anything
When working in PR, everyday is different and full of surprises! Make sure you're always on top of what you're working on by being ready for whatever is thrown at you. You never know who you'll meet or if you'll be in any pictures or video content for your company or clients, so always look your best. There also may be an urgent matter you need to attend to outside of the office, so be sure to wear or bring comfortable shoes. Bringing your phone charger along with you is a must because you may need to make phone calls, use social media or look up directions which can quickly drain your battery in the middle of a busy day.
6) Before You Contact Someone, Do Your Research
When you're a PR intern, you often will help out with drafting and potentially even sending pitches to editors. As a first step, make sure you know who they are and that you are able to address important details about them. Whether you're meeting them in person or just sending an email, make sure you find out what they do and are interested in so that you acknowledge them personally. Start by googling their name and checking out their LinkedIn, Instagram and other social media pages. Become familiar with their work. For example, if you are researching a journalist, be sure to read some of the recent articles they've written. People appreciate when you're genuine so make sure that your messaging is specific to each person you reach out to and it doesn't seem like you're saying the exact same thing to 50 other people.
Internships are a fabulous way to learn more about the PR industry by providing you with hands-on experience and valuable connections. Use these tips to make the most of your summer internship and enjoy it!

President & Founder
Liz got her start in the corporate public relations department at Coach, the major American fashion brand, where she oversaw regional press and events. In time, Liz segued into the fast-paced agency world, moving to a boutique firm specializing in fashion accessories. In early 2009, with her passion, talent and eye for irresistibly chic and stylish designs, Liz set out on her own. She founded her fashion PR firm, Mariposa Communications, to provide unparalleled services to a selection of designers, whether established or on the rise. Liz currently lives in Brooklyn with her husband, 2 daughters and their dog Mackie.