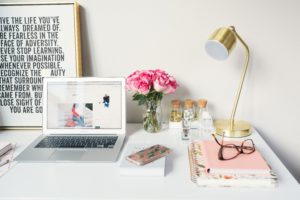 There are only two months left of 2018 (yes really, we can't believe it either) which means there are only two months left to accomplish lasting goals and objectives for the year. Whether they are for your personal life or professional career, staying organized is the key to success. See below for our top organization tips that will help you crush the rest of your yearly goals that you can utilize in the new year.
Set Up Winning Strategies
One of the simplest ways to stay organized is to have a clear method. Explore different strategies and find out what works best for you that you can consistently utilize with ease. For example, do you find that a traditional pen and physical organizer or calendar help you visualize your upcoming goals, dates, and deadlines? Or are you rather tech-savvy and find that Google/Apple calendars, alerts, and apps that send notifications directly to your phone best keep you on track? There are endless resources out there to help you map out your schedule and activities, but we also find that using an old-fashioned paper organizer that we can quickly jot notes in does the trick just as well.
Make A List & Prioritize
Make a to-do list, but don't let things pile up to the point where you lose track of what is going on. We like to keep daily lists of what we need to accomplish each day so that we know exactly what we need to focus on. This can be a great tool to help you set priorities, and there is no better feeling than crossing the last to-do item off of your checklist! One of our favorites tools is Wunderlist, which can help you see anything and everything listed out and can easily be shared with others. When making a to-do list, be sure to name things in order of priority and complexity. It can be tempting to try to knock out the simplest and quickest tasks right away, but this can often leave you pulling all-nighters and working on tight deadlines last minute. Be sure to identify and accomplish high-priority tasks from the start, even if they are the most difficult. You will thank yourself later!
Give Everything A Home
Whether you work at an office desk full of office cabinets and filing papers or have a busy email that is easily filled, make sure you have a system to keep everything in place. If you have many important hard-copy documents that you use on the daily, try getting an organizing system like a color-coded filing cabinet for easy access. Clutter is the number one enemy of staying organized, so treat yourself to a Target run and invest in storage units that will help you de-clutter your work area for better concentration. The same principles can be applied to email as well. We are always labeling messages into specific categories and star important emails so that they don't get lost in the shuffle of things.
Even when you're super busy, there are quick fixes and tools that you can use to reorganize things and stay on track with your goals. Utilize these strategies to help you stay organized in both your professional and personal life with ease!

President & Founder
Liz got her start in the corporate public relations department at Coach, the major American fashion brand, where she oversaw regional press and events. In time, Liz segued into the fast-paced agency world, moving to a boutique firm specializing in fashion accessories. In early 2009, with her passion, talent and eye for irresistibly chic and stylish designs, Liz set out on her own. She founded her fashion PR firm, Mariposa Communications, to provide unparalleled services to a selection of designers, whether established or on the rise. Liz currently lives in Brooklyn with her husband, 2 daughters and their dog Mackie.