With the summer quickly coming to an end (sniff!) we are getting excited about boot, leather jacket and scarf season to arrive. However,  when the weather is at the end of summer, beginning of fall funk it can be difficult to know what to wear. See our favorite staples below that are perfect for layering and can easily transition from summer to fall.
Vests & Blazers
Vests and blazers are an absolute must for your closet. Whether it be a bright color or more of a neutral tone, vests and blazers are the ultimate transitional clothing pieces. Dress it up over a chic mini dress or dress it down with your favorite tee, boyfriend jeans, and sneakers. Our favorite vest is my cream midi vest. We pair it with anything and everything. Another favorite is a simple black blazer dress that you can wear both as a dress and as a vest. Try tossing a long-sleeved button-down with a collar on underneath it when the weather is a bit cooler. You can dress it up with a pair of strappy black heels or opt for a cute slip-on sneaks for a more casual look. We think that blazer vests will never go out of style and can be paired with anything to give your outfit the extra edge it needs. Vests and blazers are perfect because they are timeless and transitional. Whether it is a hot day in July or a crisp day in November, you can wear a vest or a blazer in any climate. Try our favorite structured striped vest from ZARA that is light enough to wear to the beach and perfect for layering over a sundress or coverup.
Denim Jackets
Denim jackets have recently made a comeback and are perfect for summer styling. Dark wash denim jackets are perfect layering pieces to wear during the fall months, yet are perfect to toss on over a sundress on cool summer evenings. We're obsessed with white denim jackets that are great for wearing with lighter colors and hues for a girlish but chic look. Try pairing them with a solid colored dress or shorts for a simple but stylish outfit. Denim on denim is not a crime, either! Don't be afraid to pair a denim jacket with a simple tee and your favorite pair of jeans. We happen to love this embellished jacket from Bloomingdale's.
A-Line Skirts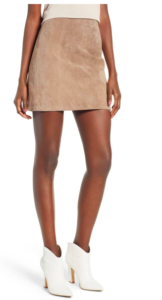 Skirts are a great versatile clothing piece because you can mix and match them with tons of different options. During the summer, you can pair a cute A-line skirt with a flowy tank and wedges to stay cool. When it starts to get closer to the fall, you can easily wear the same outfit and simply toss on a cozy cardigan or leather jacket and booties. SO many possibilities! We especially love anything neutral colored for even more mix and match capabilities. Try the sleek and simple BLANKYC A-Line Suede Skirt available at Nordstrom.

President & Founder
Liz got her start in the corporate public relations department at Coach, the major American fashion brand, where she oversaw regional press and events. In time, Liz segued into the fast-paced agency world, moving to a boutique firm specializing in fashion accessories. In early 2009, with her passion, talent and eye for irresistibly chic and stylish designs, Liz set out on her own. She founded her fashion PR firm, Mariposa Communications, to provide unparalleled services to a selection of designers, whether established or on the rise. Liz currently lives in Brooklyn with her husband, 2 daughters and their dog Mackie.