Hey, Is That You?
Sunglasses surprisingly can be worn year round, and I know that sounds crazy. The sun does come out every once in awhile in New York. However, the summer is where the cool sunglasses come into play. Sunglasses, no matter what shape or size can be a bold or subtle accessory to your outfit of the day or night. New styles come out each season, creating buzz around the city, and everyone is trying to be the first ones to have the best pair out there. Well, there is no best pair, because each pair can represent a different personality with its qualities and attributes. Fashion bloggers are trying out these trends right now and are spreading the word about what new trendy pairs to purchase.
Tints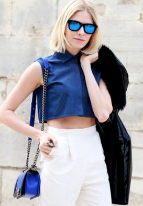 The most popular tints to sunglasses are in red, pink, and blue for the current trends as of right now in pop culture, and in our society. Tinted sunglasses can match with outfits, along with being an essential piece of the puzzle that was missing. I have a pair of Quay Australia sunglasses with a light blue tint to them. It does not always mean that you will only see blue when wearing them, but it adds a reflection to each pair and can make an outfit pop. People wear these purely for fashion reasons, and they spread on the trend. Society titles these as the most wanted trend to date.
Cat-Eye Sunglasses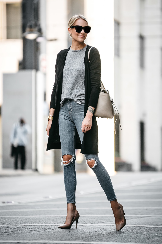 The cool thing about these Ariana Grande style sunglasses is that they can match with either casual or nighttime outfits. A pair like these usually come only in black. However other neutral shades tend to be seen around the city. It can be a showstopper and represent bold personalities. Sunglasses like these can be found in many different sizes, but large ones are in demand. Sometimes, a bright color, like red or hot pink, can be seen on the city streets as well. These colors can appear at the top of the frame in a thick stripe. Hey, either go big or go home!
Round & Oversized
Sunglasses like these are my absolute favorite, due to being obnoxious and crowd stopping. These include embellished sunglasses and any large pair of sunglasses in any shape. For me, I love the square shape and have multiple pairs of them, but some may like the circles or other shapes because of the trendy look. A tip when taking an Instagram photo is to lower your glasses a little and pretend you're looking at the camera. That is a small inside scoop on the New York trend buzz happening right now.
Finishing Off – Skinny 90s Inspired Sunglasses
The Kardashians have been photographed with this sunglasses style, and now you can own a pair too. This style is starting to make a comeback into street fashion and is spreading rapidly. The more I walk into department stores, the more I notice this style on the shelves. Only certain designers make them, but the demand is still high. These usually come in black or a bold color. I have not noticed this style with tints or accent colors; it remains plain and simple. Wearing a pair like this provides a subtle look because of their size. When it comes to sunglasses, size is everything.