Let's Start Packing!
Sum
mer is here and more and more people are going on weekend getaways and extended vacations. Women are buying unique outfits and necessities for their trips and are looking for the perfect coverup to go with their bathing suits. Some types of coverups may pair well with different styled bathing suits and part of the fun is mixing and matching! Having a different coverup for each day can improve confidence, and it is an excuse to have a new outfit. Below are some of our favorite coverup trends for this summer.
Kimonos
Many people think to wear kimonos with a tank and some cute ripped jeans for a day out in town, but they can be styled nicely with bathing suits as well. We see kimonos all over, whether it be at the beach, the pool or even a trendy restaurant. We love sheer black kimonos as a simple staple, but don't be afraid to play around with different colors and prints as well. Kimonos are great for the beach as you can easily slip them on and off and are lightweight for hot summer days. When wearing one a kimono, shorts are not needed as many have a small clasp or a tie in the front to allow for easy coverage. Pair a kimono with some cute shades and you are ready to go!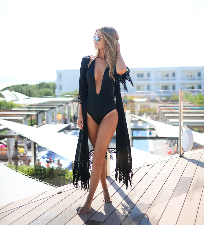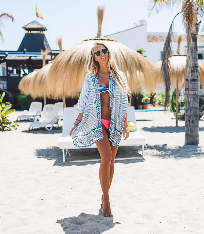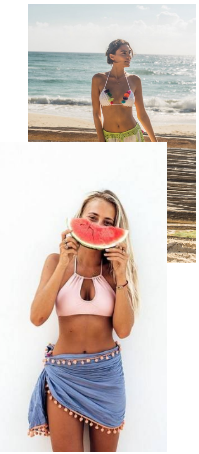 Flowy Pants
This trend is our absolute favorite for the summertime! Flowy pants are perfect when you are going for a cute, casual and comfortable look. Flowy pants can be part of an entire outfit or paired with a one-piece or bikini for a cute beachy look during the day. There are many different varieties of flowy pants as many will have slits, different patterns, lengths, and fits. We love to pair flowy pants with high neck bathing suits that a dress or romper may not look great in. Whether the pants are sheer, solid-colored or with a vibrant pattern, this trend is always an eye-catcher!
Shorts & Sarongs
Not a fan of kimonos, loose shirts, or pants? Go for a classic pair of shorts or a tie sarong. Sarongs are great because they come in different patterns and solids, and different lengths depending on your style. These sheer cover-ups can still show off your bathing suit, one piece or bikini, and add a very subtle touch to the look. We tend to see a lot of shorts with pom-pom or tassel details for a fun and beachy detail. These are fun and flirty and will complement any bathing suit.
Have a Blast!

Wherever you are traveling, having some trendy cover-ups to pair with your bathing suits is a statement that will not be missed. No matter what cover-up you are wearing, it is nice to have it on hand for when you are walking around town or out to lunch. It is great when traveling as they are super lightweight and flowy for hot summer days. Coverups are easy to roll up and fold, taking up minimal space in your suitcase. All you need to do is add a cute hat and sunglasses and you're all set to go!

President & Founder
Liz got her start in the corporate public relations department at Coach, the major American fashion brand, where she oversaw regional press and events. In time, Liz segued into the fast-paced agency world, moving to a boutique firm specializing in fashion accessories. In early 2009, with her passion, talent and eye for irresistibly chic and stylish designs, Liz set out on her own. She founded her fashion PR firm, Mariposa Communications, to provide unparalleled services to a selection of designers, whether established or on the rise. Liz currently lives in Brooklyn with her husband, 2 daughters and their dog Mackie.