Let's Start Packing!
Sum
mer is here, and week after week, more and more people are going on weekend getaways and extended vacations. Women are buying unique outfits and necessities for their trips. And are looking for that perfect cover up to go with their bathing suits. Some types of cover-ups may pair well with different styled bathing suits, but that is the fun of shopping and matching. Having a different one each day can improve confidence, and it is an excuse to have a new outfit. Below are some of my favorite cover-up trends this summer:
Kimonos
Most people think of kimonos to wear with either a tube top or tank with some cute ripped jeans for a day out in town, but it can be styled nicely with bathing suits too. When I recently visited Las Vegas, I saw many people wearing kimonos with their outfits by the pool, walking around town, and even in at the day clubs. I wore a sheer black one I got from DSW, but printed kimonos can be trendy with solid bathing suits, bikinis or a one piece. These are a straightforward take on or off and are lightweight for hot days. When wearing one of these, shorts are not needed. Some kimonos can have a small button in the middle to clasp, or a tie in the front to cover up your body, but I prefer the ones that are all open for the classiness. Pair with some cute shades and you are ready to go!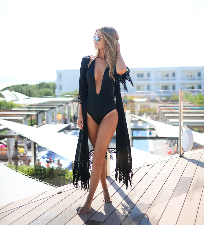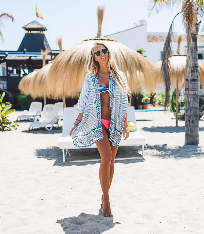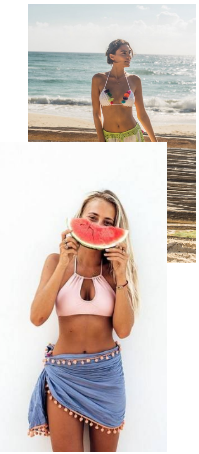 Flowy Pants
This trend is my absolute favorite for the summer time! Flowy pants are perfect when not wanting to cover up too much and expose a trendy style that the crowd can see. It is the time to show off that hot one piece or bikini top without covering it up. I recently went to the Cancun where I saw many women wearing flowy pants in multiple colors. Sometimes these pants can have slits where the entire leg is exposed, or not. Pants are great for those high neck bathing suits that a dress or romper may not look great with. My favorite ones are by Elan because they are elastic, stretchy and extra flowy. Whether they are see-through, mesh or solid, this trend is always an eye-catcher!
Shorts & Sarongs
Not a fan of kimonos, loose shirts, or pants? Go for a classic pair of shorts, or a tie sirong. Sirongs are easy because they come in different patterns and solids, and different lengths of long and short. These sheer cover-ups can still expose your bathing suit, one piece or bikini, and add a very subtle touch to the look. Shorts are popular, especially flowy ones. In stores, I have seen a lot of shorts with pom balls at the ties and seams. These are fun and flirty, complimenting any bathing suit.
Have a Blast!

Wherever you are traveling, having some trendy cover-ups to pair with your bathing suits is a statement that will not be missed. No matter what cover-up you are wearing, it is nice to have it when walking around town, out to lunch, or want not to expose much. It is great when traveling and staying at hotels that require cover-ups when walking around in the lobby. It has for sure happened to me a few times and is something I now take note of when packing. Cover-ups are easy to roll up and fold, taking up minimal space in your suitcase. With your cover-up, add a cute hat and sunglasses to go with your whole look! Enjoy your vacation or getaway!