Are you taking a trip to the beach over the summer? See below for our top items to throw on over your swimsuit or into your beach bag before you head out for a full day of fun in the sun.
Stylish Swimsuit
If you're heading to the beach, the one thing you cannot go without is, you guessed it- a swimsuit! It is important to find a suit that not only looks good, but makes you feel amazing while you're wearing it. There are so many options out there for every body type and personal style: bikinis, bandeaus, cute cut-out suits – the options are endless! What matters most is finding out what you feel best in. One-piece swimsuits are having a huge moment and we are all for it. It is also great to play around with different prints, cut-outs, embellishments and other fun details that add a bit of spice to an otherwise simple suit. One of our favorites is the Topshop Check Bardot Bikini Top available at Nordstrom.
Floppy Beach Hat
While we all can appreciate a nice sun-kissed glow, it is important to keep your skin protected when you're planning for a full day outside. Luckily, there are simple fashion hacks that will up your outfit and help you maintain healthy skin without forcing you to hide out under the beach umbrella all day. Opt for a floppy beach hat to cover your face from the sun, which can also double as the perfect chic accessory without trying too hard. We love to play around with different patterns and colors that match our swimsuits.
Colorful Sunglasses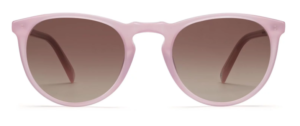 Sunglasses are the perfect accessory to keep your eyes shaded from the sun and we love playing around with different styles and colors. Summer is all about bright and bold colors so don't be afraid to try something different when it comes to your sunglasses. We love Warby Parker's Haskell shades priced at $95.
Bold Accessory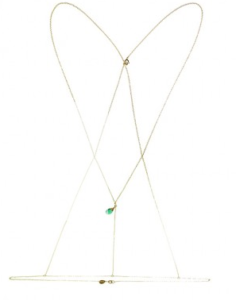 Chances are that if you're going to be splashing around in the water to stay cool, you won't want to be tied down by tangly accessories and heavy jewelry. Instead of layering multiple pieces that will take longer to take on and off when you're ready for a refreshing dip in the water, try choosing one single bold accessory. We love the body chains from Nashelle that layer perfectly over a bikini or coverup to give you the perfect beachy boho look. It is a win-win as the brand donates one plate of food to charity for each piece of jewelry sold.
Big Tote Bag
A tote bag is needed to keep your phone, wallet and other beach essentials safely stored throughout the day. Make sure you go for a size that is roomy enough to hold a beach towel, coverup, flip flops and anything else you'll be needing. We love beach bags with zippers, draw strings or even multiple compartments to make sure that nothing will blow away from any sudden beach breezes.
Cute Coverup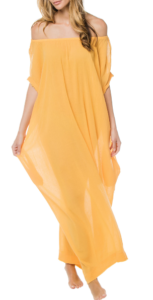 When you've had enough sun for the day, you'll probably head out to a nearby restaurant or bar to treat yourself to a summery cocktail. Come prepared for any last-minute plans with a swimsuit coverup that can also be worn as a casual but cute evening outfit. We love anything light and airy, but be sure to opt for something that doesn't clash with your swimsuit. Everything But Water has some great options that you can wear all season long!
Have an amazing day at the beach and don't forget to take cute pics to post on Insta!

President & Founder
Liz got her start in the corporate public relations department at Coach, the major American fashion brand, where she oversaw regional press and events. In time, Liz segued into the fast-paced agency world, moving to a boutique firm specializing in fashion accessories. In early 2009, with her passion, talent and eye for irresistibly chic and stylish designs, Liz set out on her own. She founded her fashion PR firm, Mariposa Communications, to provide unparalleled services to a selection of designers, whether established or on the rise. Liz currently lives in Brooklyn with her husband, 2 daughters and their dog Mackie.