It's the season we've all been waiting for – fall! Along with fall, comes cozy yet stylish outerwear that we all love so much. Fall fashion is always changing and we all want to be up to date with the latest styles. With that being said, we put together some of the hottest fall trends to keep you chic yet cozy all season long!
Leather Jackets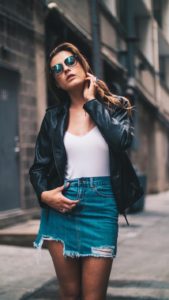 Who doesn't love a nice leather jacket? This fall staple never goes out of style and matches nearly anything making leather jackets a must for your closet. Whether you're going on a date, having brunch, or going out in town it is a great go-to to add a bit of edge to cooler fall days. We love pairing leather jackets with a nice pair of jeans, a blouse, and cute booties/sneakers. For the beloved warmer days that come around from time to time during the fall, they are perfect to slip on over a tank, jean skirt and your choice of shoes. Leather jackets are also perfect for nights out. We all have our favorite little dress that we wear ALL THE TIME – style it up and take it up a notch with a leather jacket. It's a great transition from day to day activities to nighttime attire and can easily be dressed up or down. We all know that a good leather jacket can be a little pricey but you won't regret investing in one that you really love because you'll be able to style it all year- round.
Denim Jackets
Denim jackets are another staple that will never go out of style. There's just too much you can do with them – they go great with a simple shirt, colored jeans, and any choice of shoes. Layering with denim jackets is also very trendy and look great over a tank. We love mixing different types of outerwear so don't be afraid to toss your denim jacket on over a leather jacket or light hoodie! It is also a good idea to have a darker colored denim jacket that can go with all your neutral colored items in your closet. We all know the notion that black goes with everything, so don't be afraid to opt for a darker shade over the traditional blue denim jacket. We promise that you won't be disappointed! Jean jackets are versatile since you can wear them within any season and are easily tossed on over nearly every outfit, so be sure to add one to your closet if you don't already own one!
Oversized Sweaters
Oversized sweaters are a trend that we hope stays around forever. They have achieved the seemingly impossible fashion trifecta of being cozy, comfortable, and stylish all in one. We love the look of an off the shoulder or cold shoulder oversized sweater. Fun details like such add style to an otherwise simple staple and look great with a pair of jeans and boots of all kinds. Oversized sweaters can easily be accessorized, so don't be afraid to add a pair of statement hoop earrings, your favorite choker, a scarf or even heeled booties for a dressier but cozy outfit. Oversized sweaters are great day-to-night outfits and look perfect in fall shades like nude, brown, and deep red or orange. Be sure to snag a few different colors and styles that you can wear all season long!

President & Founder
Liz got her start in the corporate public relations department at Coach, the major American fashion brand, where she oversaw regional press and events. In time, Liz segued into the fast-paced agency world, moving to a boutique firm specializing in fashion accessories. In early 2009, with her passion, talent and eye for irresistibly chic and stylish designs, Liz set out on her own. She founded her fashion PR firm, Mariposa Communications, to provide unparalleled services to a selection of designers, whether established or on the rise. Liz currently lives in Brooklyn with her husband, 2 daughters and their dog Mackie.