As the "new year, new me" mantra goes, 2018's fresh start is the perfect opportunity to revamp your wardrobe. The Pantone Color Institute recently declared that ultra violet will be the "it" color of 2018, and we can't wait to hop on the trend. Check out the following to help you stay on track, and in style, all year long.
Planner
For staying organized and on-point with cocktail hours, New Year's resolutions, and everything in between.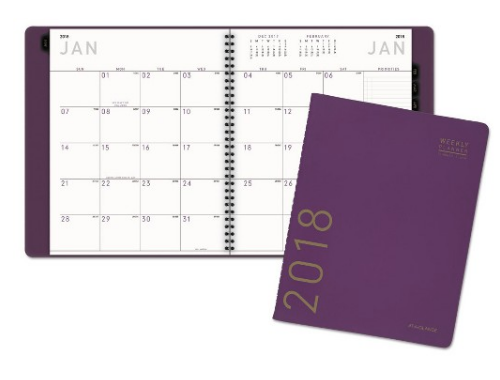 2018 Contemporary Appointment Book, Target, $27.
Refresh your skin for a new year with a deep cleanse!
Violet-C Radiance Mask, SEPHORA, $68.
This lavender-infused eye mask will help you accomplish two resolutions at once- getting more sleep and taking time to relax!
Lilac Dot Sleep Mask, NORDSTROM, $21
Make a statement this year by adding a new sparkle to your stash. Unique violet jewelry pieces will easily glam up a cozy winter sweater.  
Favo Gemstone Earring, Cerimani, $355
Looking and feeling stylish in your gym swag is one of the best parts about the resolution to new to exercise more and can keep you motivated along the way.
See You In Savasana Tank, Lululemon, $39. 
Toss last year's beauty tools and treat yourself to a fresh start. Your skin will thank you!
Purple MAANGE 15cs Makeup Brush Set, Bonanza, $46
Try incorporating the trendiest color of 2018 to stay on track with your 2018 resolutions in style. Cheers to an ultra amazing, ultra violet year!

President & Founder
Liz got her start in the corporate public relations department at Coach, the major American fashion brand, where she oversaw regional press and events. In time, Liz segued into the fast-paced agency world, moving to a boutique firm specializing in fashion accessories. In early 2009, with her passion, talent and eye for irresistibly chic and stylish designs, Liz set out on her own. She founded her fashion PR firm, Mariposa Communications, to provide unparalleled services to a selection of designers, whether established or on the rise. Liz currently lives in Brooklyn with her husband, 2 daughters and their dog Mackie.