It's undeniable – vintage jeans are huge this spring. When fitted correctly, the perfect pair of old levi's can become the most versatile and comfortable jeans in your closet. But for anyone who's tried on a pair and been terrified that they look like Tina Fey in that infamous SNL Mom Jeans Sketch – we're here to help. Follow these tips below: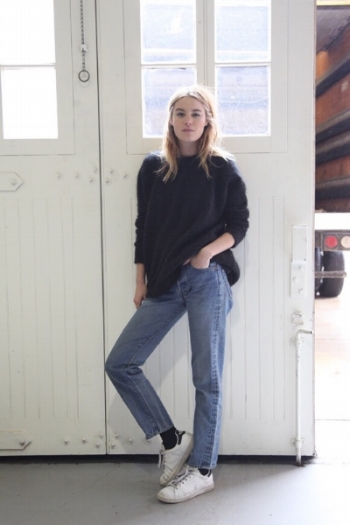 1. Forget Your Size
No really forget it because it's useless. When it comes to vintage denim, you'll be shocked at how different each pair fits depending on age. The same exact styles in the same "size" can truly fit and look completely different on. Get ready to try on a lot of pairs because you'll want to see how each forms to your body. Try to look at the waist of the jeans, since this will be the hardest part to fit correctly, and find pairs that you'll be comfortable in. As a general rule of thumb though, older denim runs small.
2. Remember Denim Stretches
You can get a lot of different looks with vintage denim, but if you want a pair that's tight along the waist and butt remember that denim stretches. While you're wearing your jeans, they can stretch out .5-1″. You don't want to be uncomfortable when you first put them on, but you don't necessarily need tons of extra space.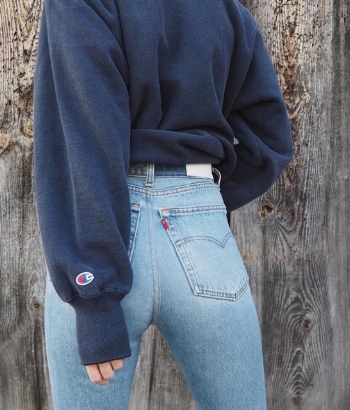 3. Keep an Open Mind
This is key. Many people get caught up in wanting a specific style like Levi's 501, or believing vintage jeans only look good on a certain body type. There are so many styles and brands to choose from with vintage denim if you're willing to search. Also equally important to keep your expectations in check – vintage denim will never fit like today's skinny jeans or jeggings unless they're altered.
4. Style Your Pair to Your Tastes
There's so many ways to rock vintage jeans and you can up your denim game by making some easy changes to your pair. You can always cuff your jeans or cut the bottom for a frayed edge (another big spring trend). Add patches to the pocket or take a razor to the knees to make the perfect distressed pair. No matter what we're convinced there's a perfect pair for everyone.

President & Founder
Liz got her start in the corporate public relations department at Coach, the major American fashion brand, where she oversaw regional press and events. In time, Liz segued into the fast-paced agency world, moving to a boutique firm specializing in fashion accessories. In early 2009, with her passion, talent and eye for irresistibly chic and stylish designs, Liz set out on her own. She founded her fashion PR firm, Mariposa Communications, to provide unparalleled services to a selection of designers, whether established or on the rise. Liz currently lives in Brooklyn with her husband, 2 daughters and their dog Mackie.