"Phone eats first!" is the most common phrase we hear at brunch lately. One of the most important parts of a meal has become taking a picture before you take your first bite, making aesthetics just as important as taste when it comes to picking out a meal or restaurant. Here are some of our favorite picks for Insta-worthy food that are sure to stir up your followers' appetites!
You've probably scrolled past plenty of pictures of sushi, and maybe even some burritos (if they aren't too messy for a good picture) but you'll really turn heads by posting a sushiritto! It is just as it sounds- a giant sushi roll in the shape of a burrito. Dinner doesn't get more fun than that!
Nothing is cuter than a bite-sized cupcake – and we think anything is better when miniature! These tiny treats come in a variety of flavors and toppings, from cookie dough to chocolate chip pancake! Some even have color icing or tye-dyed cake – no filter required. The best part? It's hard to feel guilty eating dessert that's so small!
These doughnuts are unlike any other you'll find in NYC. They use all handmade ingredients, have no transfat, and come in so many cool flavors that change every season. Each doughnut has a unique touch to it, whether it be square-shaped, or have an untraditional flavor such as banana or sunflower seed.
Cocktails with ice pops in them and rose on tap is just the start of the aesthetic this bar has to offer. You can snap a pic of your drink with the rooftop view, or even just take a shot of the menu, featuring drinks with names like "I can't even." We love it already!
This is your spot for great food AND drinks that are cool enough for the 'gram. Start with a giant margarita (warning: an entire bottle of tequila is used so be sure to bring lots of friends to share with) and then get a taco tower. Your followers will not have seen anything like it!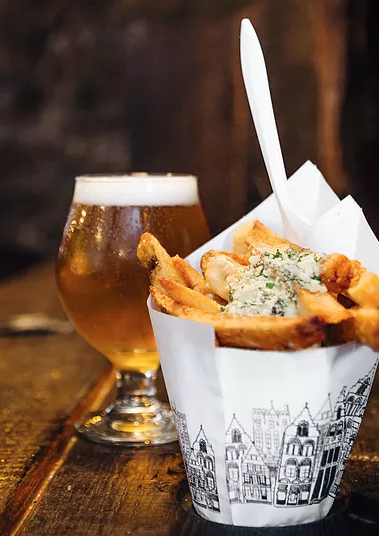 Everyone loves french fries, but these authentic Belgian style fries will make the best picture for your feed. Each is tastefully served in a paper cone with cute Belgian houses printed on it, adding a fun touch and making it easy to hold while you get a killer selfie!
Bon appetit and happy posting! Where's your favorite spot for a food Insta?

President & Founder
Liz got her start in the corporate public relations department at Coach, the major American fashion brand, where she oversaw regional press and events. In time, Liz segued into the fast-paced agency world, moving to a boutique firm specializing in fashion accessories. In early 2009, with her passion, talent and eye for irresistibly chic and stylish designs, Liz set out on her own. She founded her fashion PR firm, Mariposa Communications, to provide unparalleled services to a selection of designers, whether established or on the rise. Liz currently lives in Brooklyn with her husband, 2 daughters and their dog Mackie.