As the popular saying goes, "New Year, New Me!" With 2018 behind us, it is now the time for us to plan and organize goals to achieve in the new year. Making the resolutions is the easiest part of the process, whereas maintaining them throughout the year brings about many more challenges. Not to worry, as we have some tips to stick to your resolutions and accomplish your goals for the year. It may be easier than you think!
Set Smaller Goals for Yourself 
While it is great to reach for the stars, sometimes you may give your goals unrealistic timelines. Start off with a small goal that is more realistic to get you started in the right direction. Once you get comfortable enough with this small goal, you can start pushing yourself more towards achieving a larger goal that plays into the big picture of things.  This will help you to efficiently reach the end result in which you had in mind all along and then some!
For example, if your big goal is to lose 20 pounds, you may not feel accomplished until you achieve this specific number. Instead, break it down and create smaller goals. Start off with easier goals such as actually signing up for the gym, making your first trip to the gym, then going to the gym twice a week. This sounds a whole lot easier than losing 20 pounds. This will give you the mindset to actually continue with your resolution and not give up because your big goal didn't happen instantly.
Make a Schedule That You Can Actually Follow
Your schedule may be jam-packed with other responsibilities which are far more important than sticking to your goal. But that cannot be your mentality if you have a goal you actually want to achieve. You have to make room in your schedule for your resolution because it is just as important as your other responsibilities now. Give your resolution set days and times in your daily schedule to do these things. This gives you an obligation to actually do them because you're setting aside time during your day. If your goal is to go to focus more on a side hustle, then set aside specific times during the week in which you can actually do so and don't interfere with other responsibilities.
A great way to stay organized with your goals is to write everything down in a planner. This way you can plan your days and everything is clearly laid out in front of you. You won't miss anything and can easily follow the schedule.
Find Someone to Motivate You 
You may think that you can work towards your resolution alone, but for most people, the best thing they can do is to find someone else who wants to achieve the same thing. Sharing struggles and experiences with someone else makes this journey towards your goal so much more enjoyable. This person will be there to motivate you and watch you grow, and you will be the same for them. Support groups are also a great way to motivate you such as joining a workout class for your fitness goals or a local support group to quit smoking. The right support system is crucial in order to maintain these goals.
Don't Be So Hard on Yourself
It is impossible to be perfect and there is no way that your goal won't have any minor setbacks. If you do have any, don't sweat it, but also don't give up. Your mistakes should come with consequences, but grow from these mistakes and continue to stay on track with your goal. The more you stay in the right direction of your goal, reward yourself. Taking a day off to rest and refresh will only help you!
Find Apps to Motivate You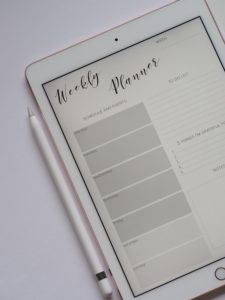 The easiest way to stay motivated is with apps right on your phone. Many times, we are already using our phones so it can be great to implement notifications to help us stay on track with our goal. Getting a notification right on our phone will motivate us because we are getting a reminder right in front of our eyes. There are so many apps out there that can help us stay motivated towards our goal, no matter the type.
For example, those looking to improve their health can check out the 30 Day Fitness Challenge Pro. This app is great for anyone who doesn't have a gym membership (or even if you have one) because this app creates a set program designed by fitness professionals with at home workouts. The beauty of this app is that you can work out anywhere so you don't need a gym membership to stay active. Apps like this make impossible to make any excuses!
If you need a little help on staying organized with your goals and daily tasks, check out Wunderlist, which allows users to create daily to-do lists and goals to focus on. This app is great for creating habits as and helps to create a routine and stay on task towards reaching your goals.
What are your New Year's resolutions and how will you accomplish them? Let us know in the comments below!

President & Founder
Liz got her start in the corporate public relations department at Coach, the major American fashion brand, where she oversaw regional press and events. In time, Liz segued into the fast-paced agency world, moving to a boutique firm specializing in fashion accessories. In early 2009, with her passion, talent and eye for irresistibly chic and stylish designs, Liz set out on her own. She founded her fashion PR firm, Mariposa Communications, to provide unparalleled services to a selection of designers, whether established or on the rise. Liz currently lives in Brooklyn with her husband, 2 daughters and their dog Mackie.