'Tis the season for getting cozy with cocktails in good company! Hosting a get together during the holidays is a great way to celebrate with those who you may not usually be able to see often before the new year. Hosting a fun and festive event is easier than it may seem – see some of our tips below with highlights from our recent holiday happy hour for inspiration.
Make an Invite List
One of the first steps you will have to take when planning a holiday gathering is organizing an invite list. This process may take a few revisions as you will want to ensure that you are not forgetting any potential guests. We often opt for using Excel spreadsheets to make an organized list complete with guest names, emails for sending invitations to which makes keeping track of RSVP's a breeze. This year, we sent out an e-vite through Paperless Post, which is great for sending e-vites, follow-ups and keep track of invite replies.
Choose a Venue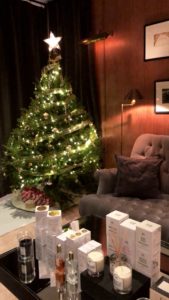 Choosing a location for a gathering is very important as different factors like lighting, music/noise level, and size can set the overall mood. Be sure to choose a venue that is large enough to host each of your guests but small enough to keep it intimate. Look into if the location provides music or if you will have to hire a DJ/provide your own and other important factors. For our holiday gathering this year, we headed to Thompson Square Studios due to its convenient SoHo location, perfect size and already decorated venue.
Plan Your Refreshments
It is always a great idea to provide some sort of beverage or refreshments for guests depending on how long your event will be. Coffee and water are perfect for earlier events while cocktails or wine are better suited for the evening. Be sure to see if your venue has a bar service or if you will need to provide your own offerings. Sometimes less is more, as many guests will prefer to sip on a drink while chatting with others rather than eating or drinking a very elaborate offering that can be more of a distraction from the gathering itself.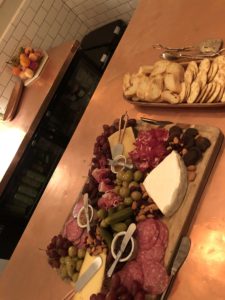 This year, we kept things simple and had coffee, wine and a charcuterie board courtesy of Thompson Square Studios as well as delicious snacks we provided like homemade chex mix and holiday-themed M&M's.
Cheers & Celebrate!
Be sure to arrive at your event venue prior to guest arrivals to ensure that everything is set up properly. This is a great way to make any final touches to decorations, music choices, setting up refreshments and more before things begin to get busy. Once your attendees begin to arrive, grab a drink and chat with everyone to celebrate with some festive fun!

President & Founder
Liz got her start in the corporate public relations department at Coach, the major American fashion brand, where she oversaw regional press and events. In time, Liz segued into the fast-paced agency world, moving to a boutique firm specializing in fashion accessories. In early 2009, with her passion, talent and eye for irresistibly chic and stylish designs, Liz set out on her own. She founded her fashion PR firm, Mariposa Communications, to provide unparalleled services to a selection of designers, whether established or on the rise. Liz currently lives in Brooklyn with her husband, 2 daughters and their dog Mackie.