For spring, we love stacking bracelets and rings to create a fresh look that's unique every time. This can be a hard look to put together though if you're an accessory junkie with too many beloved pieces to choose from. Below we'll guide you on how to throw the perfect "arm party" with three different styles to inspire you.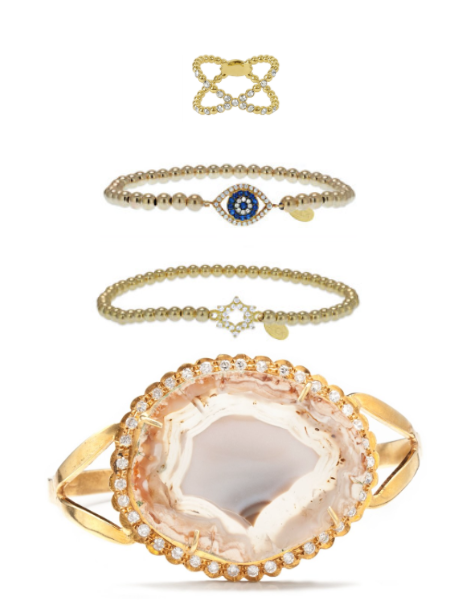 One key to mastering this look is balancing statement pieces with smaller ones. Take our boho arm party that features a stunning cuff bracelet surrounded by cute beaded bracelets. We love continuing the sparkle from the bracelet charms with a pretty little ring.
Mandawa bracelet / Star becklette / Evil eye becklette / Beaded cross ring
Personalized jewelry is always good for showing off your unique style, especially when stacking bracelets and rings. For our preppy look we threw in a "mama" bracelet that we love, but you can really choose any piece that reflects who you are.
Baguette bar bracelet / Pearl becklette / Mama becklette / Gold ring
Our third style inspiration is a rocker look that reminds us when it comes to parties, there are no rules. Don't worry about making every piece of your arm party match, you can even mix and match metals like we did with silver and rose gold.
Luxe chatonbanding bracelet / 4 Point star bracelet / Rose gold with sapphire ring / Rose gold with sapphire ring

President & Founder
Liz got her start in the corporate public relations department at Coach, the major American fashion brand, where she oversaw regional press and events. In time, Liz segued into the fast-paced agency world, moving to a boutique firm specializing in fashion accessories. In early 2009, with her passion, talent and eye for irresistibly chic and stylish designs, Liz set out on her own. She founded her fashion PR firm, Mariposa Communications, to provide unparalleled services to a selection of designers, whether established or on the rise. Liz currently lives in Brooklyn with her husband, 2 daughters and their dog Mackie.